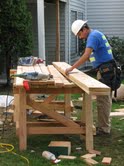 Testimonials
Most of the work awarded and performed by Cobra Construction Company stems from past customers, whether it's someone who was referred by a Homeowner Association or an architectural firm who's had favorable experiences working with us on previous projects. We deliver on our promises and leave our clients convinced that they made the correct decision by hiring Cobra Construction.
"It is difficult to find a construction company who has the repair knowledge, competitive price, professionalism, fairness and responsiveness that you have offered us. Your team has made an excellent impression with the Board of Directors, owners and all parties involved."
Marcel Scheel, SUHRCO Residential Properties.
"I am singularly impressed with the primary contractor, Cobra Construction Co. Everyone that I have had contact with on this project, from office staff through the onsite supervisors to the laborers doing the demo, cutting and nailing, is simply topnotch... Our units are occupied and their workers have bent over backwards in accomodating the needs and demands of our residents."
William C. Taylor, President of Sound Vista Condominiums HOA.
"As you know we hired several contractors in the past but none provided us with the complete package of building problem analysis, accurate estimates and outstanding repair quality. Your construction expertise and explanation of how to properly perform construction defect repair is unmatched."
Celia Strong, Village by the Lake Condomiums HOA chair.
"We were introduced to Cobra in 2000 to fix dry rot problems… In 2001, we commissioned Cobra… for all foundations in both buildings… In 2003, we commissioned Cobra to repair tongue and groove cedar siding… In 2004, we commissioned Cobra to repair dry rot problems on (9) outside decks."
Viktor Sletten, Board of Directors President, Islandia Condominiums.
"…thank you for the outstanding service you provided with very short notice… I was impressed with your building repair knowledge and your ability to communicate your experience and opinions in a way that was easy to understand and credible… Both the homeowners and our project manager were very satisfied with the workmanship and professionalism conveyed by the field superintendent and his crew."
Steve Amento, President of Corke Amento.
"Their projects are well managed to insure a timely delivery. Their field staff is thoroughly trained in water intrusion prevention so we know with confidence our repair details are being followed. We would highly recommend them as a contractor to work with any Homeowners' Association who needs guidance in detail review with competitive pricing of their remediation project."
Bob Steimer, President of Reserve Consultants.
Ballard Leary
CNJA Architects
G. Parkinson Architects
Novar Corporation
Seaman & Associates